Attention All Cooks!
"Get Instant Access To
100
Unique Greek Pie Recipes, Illustrations and Detailed Instructions"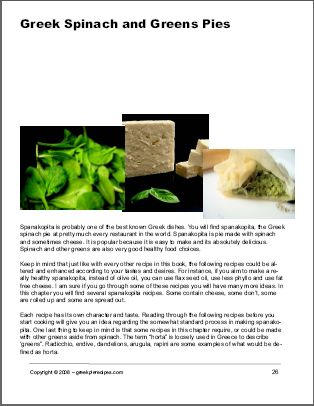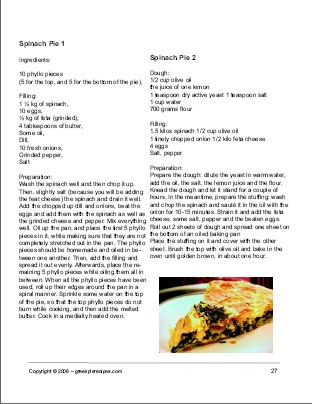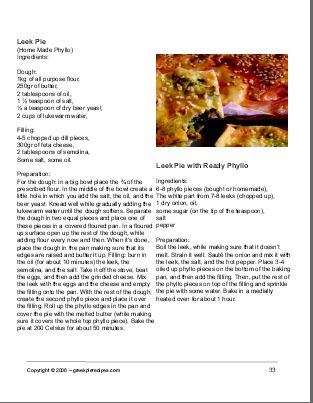 If You Want To Make A Spanakopita or Tiropita

Fast & Easy

Then Please Pay Attention To What I Am About To Tell You...
From the Kitchen of Maria Papadopoulos,


Mother, Cook, Food Author, Traveler, Educator

Dear Greek Food Enthusiast,

If you are reading this letter then it is likely that have spent some time searching for Greek pie recipes. It will take you a lot longer than you thought to find that recipe that makes a difference.
I understand your frustration because I have been in your shoes and sometimes I still am when searching online. What if I told you that you can create delicious Greek pies in no time and as easy as 123…
"Here's Some Advice That'll Save You
Time And Money"
Here's the BIG problem: Most Greek recipes out there are not good.



Why? They skip the details, they are missing ingredients, some of them are not really Greek and most of them are not original. These days anyone can just put recipes on their site and call them anything they want. Good Greek cookbooks are expensive and most only contain 2 or 3 pie recipes.

I have spent a years looking for recipes online, reading cookbooks and in every recipe I find, I am left with more questions than answers. The best recipes I have encountered are the ones from my travels to Greece, my country of birth. Travelling in Greece and cooking with mothers and grandmothers from all parts of the country has given me a totally different outlook on Greek cuisine and especially on making pies.

Over the years, I collected and written thousands of Greek recipes including several hundred Greek pie recipes.


Instant Access to Delicious Recipes
The Faster & Easier Way To Making Greek Pies
I have spent the last 15 years putting together the most comprehensive Greek pie recipe collection. Then I selected the best pie recipes, my family's favourites, and put them with a clear, detailed, step-by-step system that doesn't leave anything to the imagination.
Introducing...
"Maria's Greek Pie Recipes:
Over 100 Greek Pie Recipes"
"Over 100 Categorized Recipes
With Step-By-Step, Easy To Follow Instructions…"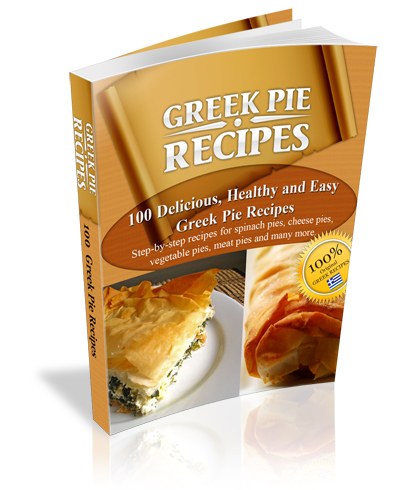 All the recipes in my book are Printable and High Quality
Recipes for all levels of expertise: For beginners,
intermediate and
advanced chefs
With Maria's Greek Pie Recipe Collection you get…

100 Original Step-By-Step Greek Pie Recipes

This collection contains recipes for every type of Greek pie and recipes from every part of Greece including Northern Greece, Greek Monasteries from Mount Athos, the mainland and the beautiful Greek islands. You can open this book and get an as authentic Greek recipe as it gets for any meal, day or occasion.


3 Instruction Manuals on Making Phyllo

Forget about searching for the best technique and let me teach you how to do it fast and easy. Treat your family and friends to a Greek delicacy and don't buy the frozen phyllo unless you need to. You can use these phyllo making recipes to impress!


Healthy, Nutritious and Easy to Learn Recipes

Greek pies bring all the healthy elements of the Mediterranean diet to your table with vegetables, olive oil and cheese as the primary ingredients. You can use these recipes as part of your diet or your overall healthy lifestyle.


The Secrets of Our Greek Grandmothers


You won't find these recipes in conventional cookbooks and especially not online. These are recipes that I have recorded while cooking with the most established, famous and experienced Greek chefs…proud Greek mothers and Grandmothers!


Your Skill Level Doesn't Matter

My recipes are written to get the most delicious, healthy and nutritious traditional Greek tastes quickly, inexpensively and with professional results EVERY TIME. You don't have to be a chef to make delicious Greek pies!
Look At Some Of The Recipes You'll Be Able To Make!..
Spanakopita with Cheese
Spanakopita with Leeks
Leek Pies
Small Fried Spanakopitas
Small Baked Spanakopitas
Vegan Spanakopita
Spanakopita from Scratch
Spanakopita with home made phyllo
Tyropita or Tiropita with Feta Cheese
Small Tiropita both baked and fried
Tyropita with Home made Phyllo
Sweet Tyropia
Greek Milk Pies
Mbougatsa
Greek Meat Pies
Greek Chicken Pies
Zucchini and Eggplant Pies
Pumpkin Pies
Greek dessert pies
And

many more

great pie recipes...
Easy To Follow Instructions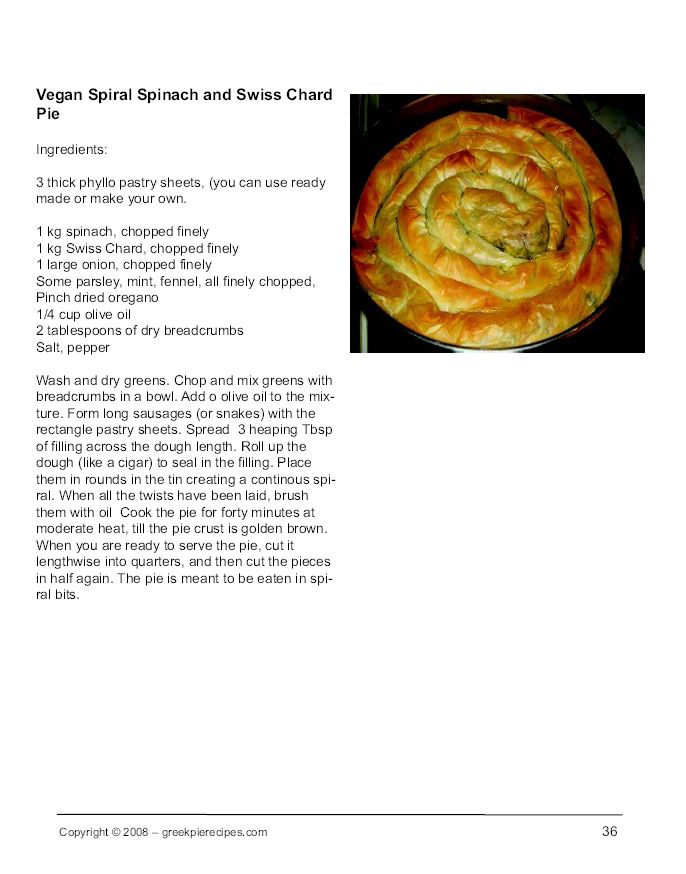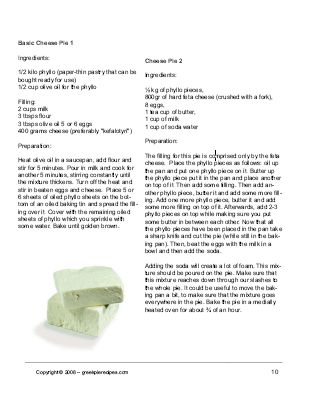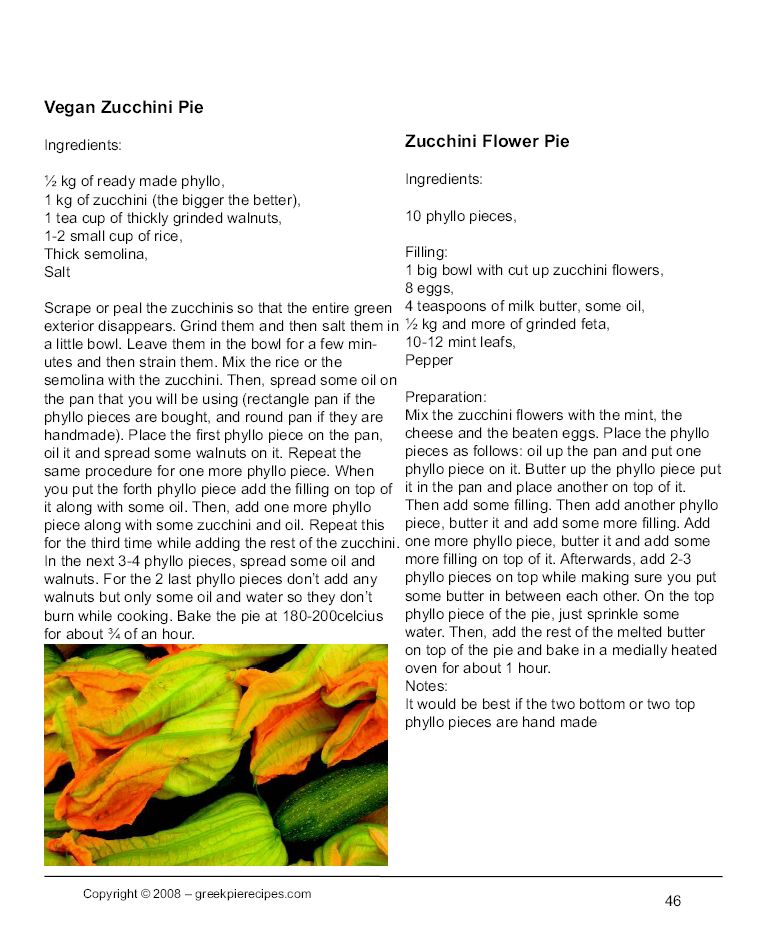 Huge Selection
"When my daughter wanted to bring in an authentic Greek food dish to share for the International Culture Day held by her Girl Scout troop, I immediately did an online search for an authentic Greek recipe that would be easy enough for a child to make. I am so pleased I came across Greek Pie Recipes. Because of the instant download, I was able to help my daughter start making a delicious, authentic Greek cheese pie within the hour. With over two dozen Greek cheese pie recipes to choose from, I was able to easily choose a recipe. I am a satisfied customer and hope to buy another recipe book from Maria soon. When is the next one comming out?"
Diane S, Cincinnati Ohio
"I was looking for a spanakopita recipe online and I came across your site and book. I have never purchased a product online before but I thought why not give it a shot. Your spanakopita recipes are all really good. I am not a big internet user so having a printable book with my some spanakopita recipes has made things really easy as I can bring this book in my kitchen."
Nancy M, New York
"These pies are delicious! I have never tried a pie like this before. Simple, easy to remember recipes but put together with care. The book is great. I don't have to search for good pie recipes any more. Efharisto Maria!"
Zoe P, Thessaloniki, Greece
"I wanted to make a spanakopita for my wife's birthday. I did a search on Google and I found your site. After downloading your book I started cooking. She loved it!"
Jim, Chicago, USA
"The recipes are amazing! The book is nicely laid out, with images for direction and inspiration."
Miltos, Athens Greece
"I just got your book last Thursday and I just wanted to send you this message with my thoughts. I am a mother of two and work full time…having your book at hand has literally untied my hands as now I make small spinach and cheese pies that my son and daughter take with them for lunch. I cook once a week and my kids eat healthy!
Thank You,
Cindy,
London
UK
You see, I've helped hundreds make delicious Greek pies the easy and fast way. By using my recipes and techniques - I have helped people around the world experience these delicious and healthy Greek delicacies!
I Don't Need To Hear More…
Let Me Order Maria's Greek Pie Recipes Right Away!
Listen up closely…if you are looking for recipes to impress this book will be invaluable to you.

Make any Greek pie any time you want!

Don't waste time and money trying to find the right recipe. You are just 5 minutes away from the most comprehensive resource yet.

Listen Closely…this is NOT your ordinrary, run of the mill recipes you find on the Internet. Make any recipes hassle-free with detailed instructions, techniques, ingredient lists as well as great tips on Greek pita making.
Claim These Exclusive Bonuses If You Order Now...
I'm including several time limited bonuses. You'll receive these bonuses if you order Maria's Greek Pie Recipes
™ by
Time-Limited Bonus:
"3 Phyllo Guides"
A. How to Use Store Bought Phyllo

A step by step guide on how to use the store bought phyllo for very fast and easy pies. I walk you though the steps you need to take to make delicious pies in a flash!
B.How To Make Your Own Phyllo

Making your own phyllo can be complicated. This illustrated step-by-step guide shows you exactly what to do to transform dough into phyllo pastry for your pies.
C.How To Make Pie Triangles

Pie triangles make a great snack or appetizer. You can make them with different fillings included in my book. This guide shows you how to use the triangle folding technique to make great shaped triangle pies every time.
" There's Nothing Else LikeThese Recipes On The Market Today... "


That's a statement I do not take lightly. But as I mentioned earlier, I've thoroughly researched the market and all competing products.

Greek recipe books are expensive and good Greek cookbooks are almost impossible to find outside Greece.

You will probably spend a minimum of $20 for the book, pay $10 in shipping and wait a week for it to arrive. Once it arrives you will only find one or two recipes for spanakopita and maybe one or two recipes for tiropita, that's it! My guide contains 100 pie recipes which is unparalleled. There is no other resources like this. It is not only a cookbook, it provides you with the direction to become an expert in the preparation of

every Greek pie recipe

.
Take a look at this comparison chart...
| | | | |
| --- | --- | --- | --- |
| | Maria's Pie Recipes | Other Websites | Greek Cookbooks |
| 100 Original Greek Pie Recipes | | | |
| Bonus #1: 3 Phyllo Guides | | | |
| No Hidden Fees or Extra Charges | | | |
| Hi Quality | | | |
| Instant Access 24/7 | | | |
| For Beginners & Advanced | | | |
| Full Range Of Recipes | | | |
| Cost Effective | | | |
| Money Back Guarantee | | | |
Don't Say "Yes". Just Say "Maybe" & Give It
A Risk-Free Test-Drive For A Full 60 Days!
Maria's Greek Pie Recipes has provent itself to hundreds happy customers and I proudly stand behind my product. Safely order today with our Iron-Clad Guarantee.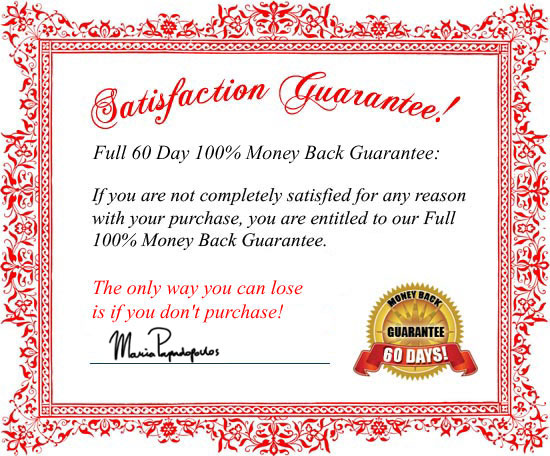 I hate seeing the word "guarantee" everywhere. What is it supposed to mean? Just words. Platitudes to get you to buy. So, I'm making you more than just a guarantee. It's a personal promise to you.
My 60 Days, 100% Satisfaction Guarantee!
This is the most comprehensive pie recipe collection currently available online and ANYWHERE else...I would want the ground to open and swallow me whole if I thought you were disappointed. So here's the deal...

If, for any reason within 60 Days of purchase of this course you feel that my book is not for you, simply let me know and I will refund every penny of your money with no questions asked. I'll even let you keep all the bonuses - on the house!
As you can see, you have nothing to risk here. Download now!
So here's the bottom line: If you have read this far, you only have one question left..
How much would you pay to take any and all headaches out of making delicious dishes forever? My recipes have proven themselves again and again. With hundreds of happy users it's time for you to get in on the action.
After you order you will get instant access to 100 rare and unique recipes . There is no need to wait for shipping and you can get the information you want in seconds from now! Get started below:



Your Small One-Time Cost Is
Only $37 $27 $9.97




(This is a special launch offer only, we're only opening this for a few days

only

before the offer closes forever!)

That's right. Your investment for the entire course is only $9.97 (this launch offer will closed anytime after ) And when we reach that point, I'll withdraw this offer immediately

This is special launch offer will close on and you won't be able to get in at this price after that even if you want to. Once more testimonials come rolling in, so I'm going to raise the price accordingly.
So don't waste any time! Take action right now:
Click Here To Order Maria's Greek Pie Recipes >>
Remember, you'll only see this special deal right here on this page, so now's the time to jump on this..




YES MARIA! Give Me Instant Access To 100 Unique Greek Pie Recipes & All The Bonuses Right Now!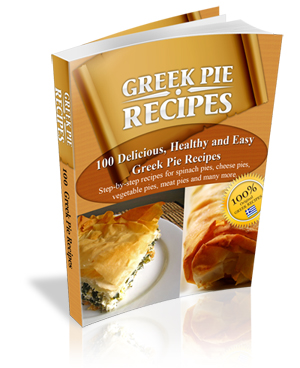 I'm ready and eager to start downloading these recipes right away. By taking action today I understand that:
| | |
| --- | --- |
| | You will grant me instant access. I will be able to download your recipes and manuals to my computer right away. |
| | By taking action today, I only pay a low investment of $9.97. There are no renewals, no recurring fees, no other charges. |
| | In addition, I understand that I will forfeit this introductory price and the bonuses if I do not purchase it now. |
| | I further understand that on top of all these benefits, I am backed by your "Better than 100% Risk-Free Money Back Guarantee" |
It is on that basis that I am clicking the secure order link below and getting instant access to Maria's Greek Pie Recipes now: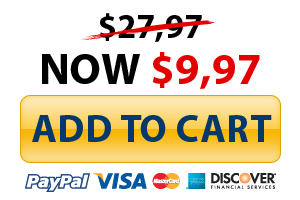 [ Add To Cart ]

There are NO monthly payments or hidden fees.
| | |
| --- | --- |
| I have been a Paypal Verified Merchant for years. Even so, I never see your credit card details, which are handled by Paypal and are protected by military grade encryption. | |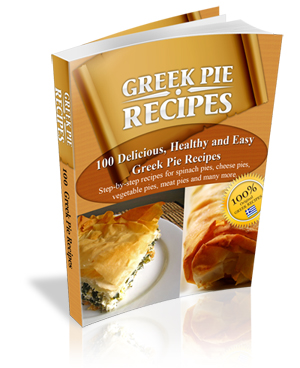 Want To Make Greek Pies The Easy
and Quick Way? This is THE Perfect
Opportunity You've Been Waiting For...

Sincerely,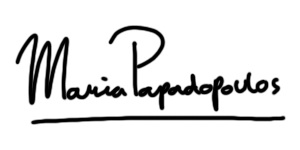 Maria Papadopoulos
www.greekpierecipes.com
P.S: I will be selling all recipes in the future for $27 in the days and weeks ahead. Lock yourself in for a deep discount now!
P.S.S:
Remember...you have my
100% Risk Free Unconditional Money-Back Guarantee
. I am 110% sure you will be happier than a 5 year old on Christmas morning with your package. But if for any reason you are not, no worries. Your investment is guaranteed for a full 60 days.
Download now!



By now, you have a good idea what my recipe package is all about. You've read the testimonials of people who rave about the product and you know that you have no risk when you purchase, all the risk is on me.

Remember, in a short time from now you will have access to over 100 Greek Pie Recipes ... If you are looking for the best ways to make tiropita, spanakopita and many more pies to make any meal easy and hassle-free, then I urge you to get in while its cheap. So take action & order now :
P.S.S.S: This is a TIME-SENSITIVE OFFER! You will never have the opportunity to invest in this package again at this price once the introductory offer ends. Please do NOT click off this page unless you are positively certain you want to pass up on this offer forever. Give me 100 Original Greek Pie Recipes right now »

Internet Security Notice:
Your order form will look like the screen
shot above and payments will be made through Paypal's order form.
| Support | Order Page | Privacy | Terms | Anti-Spam |
Copyright © GreekPieRecipes.com